Key Personnel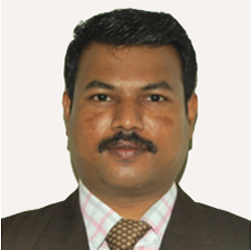 Mr. Laxman Sutar, GM – Plant Operations
Mr. Laxman oversees the functioning of the plant operations at Evertogen. With over 15 years of experience in the pharmaceutical industry he has held positions in the departments of engineering & projects in companies like Glenmark, Cipla, Plethico and Glochem. He has a rich experience of working on end-to-end designing and execution of projects, ready for take up by the manufacturing batches. Over the years, he has acquired vast exposure in validation and qualification, in compliance with regulatory authorities like UKMHRA, USFDA, etc. Prior to his role at Evertogen Life Sciences he held the position of Manager, Engineering & Projects at Shilpa Medicare. Mr. Laxman holds a Master of Engineering degree (Manufacturing Management) from BITS, Pilani and a Bachelor of Science degree in Engineering Technology.
Mr. Md. Minnatullah, GM – HR & Admin.
Mr. Md. Minnatullah is General Manager – HR& Admin. at Evertogen. He partners with both junior staff and senior leadership to shape the business strategy, identifies human capital implications and designs and deploys people practices to enhance performance and productivity towards sustained business performance.
Prior to joining Evertogen, Minnat was a Partner at Mashhor Group of Companies based out of Brunei Darussalam (Southeast Asia), where he played a variety of roles leading the HR team and shaping the human capital strategy.
Minnat has over 12 years of experience; he started his career with Hewitt Associates and worked with companies such as ACS (A Xerox company) and HCL Technologies previously.
Mr. Aditya C Ayalasomayajula , AGM – Business Development
Mr. Aditya has completed his Masters in Organic Chemistry and Chemical Informatics. He is a techno-commercial person with a vast experience of 8 years in the industry. Throughout his career, he has held various business development positions, from small to large CRAMS set-ups. He has developed new markets and business models to build strategic relationships.
Mr. Jayaram Boyina, Sr. Manager – FRD
Mr. Jayaram comes with experience of over 11 years in Formulation & Development of various dosage forms like tablets, capsules, liquids, powders, semisolids (ointments, creams & gels), etc. for regulated markets. He has handled delayed release and controlled release dosage forms with various techniques like pelletization and MUPS. He holds vast knowledge of IPR and regulatory practices of various countries. Prior to Evertogen, he has served various reputed organizations including Glenmark, Microlabs, Wockhardt, Aurobindo and Elder Pharmaceuticals. Mr. Jayaram is a post-graduate from Andhra University specializing in Pharmaceutical Technology.
Mr. Balvanth Kumar, Sr. Manager – Quality Assurance (Development)
Mr. Balvanth Kumar is a Post Graduate with over a decade of experience in Pharmaceutical Quality Assurance, with vast knowledge of quality and regulatory requirements for development of generic pharmaceutical products like oral solid dosage forms, oral liquid dosage forms, ophthalmics, parenterals and topicals. He is responsible for development, implementation and monitoring of pharmaceutical quality system elements throughout various stages of product life cycle such as pharmaceutical development, technology transfer and commercial manufacturing.
Previously, Mr. Balvanth was associated with Getz Pharma Research Private Limited, Aurigene Discovery Technologies Limited and Dr. Reddy's Laboratories Limited.
Mr. P. Lenin Babu, Manager – Finance & Accounts
Mr. P. Lenin Babu is Manager – Finance & Accounts at Evertogen. He is a Post Graduate in Business Administration & Commerce with 18 years of rich experience. His expertise includes strategic planning, treasury, banking, book closure, handling various audits, framing of internal controls, costing & pricing of products, MIS, taxation & internal financial controls, besides team management.
He was formerly working in the Finance & Accounts departments of several companies such as Salute Group, Subhiksha Trading Services Limited, Tube Investments of India Limited (part of Murugappa Group) and Nuziveedu Seeds Limited.